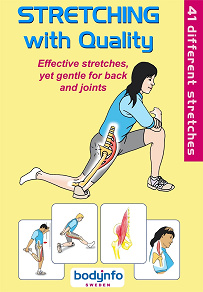 Stretching with Quality
"The Swedish Budo & Martial Arts Federation has for 18 years, used different editions of the book Stretching with Quality in our courses. We think the book in an excellent way conveying how stretching should be conducted in such a manner that increases mobility without degrading the back and the ability of the joints to tolerate stress. Something that is very important in our sport where mobility and durability for heavy loads are two important components that must perform at their best."

Michael Söderkvist, Education Committee of Swedish Budo & Martial Arts Association

Stretching with Quality shows, through illustrative pictures and instructive wording, how to execute the exercises. The techniques described can achieve a stretch of the intended muscle/muscle group without involving surrounding ligaments and stretching them to extremes. This is of great importance for the lower back, which can easily cause pain when being stretched in an incorrect way.

The exercises are described with an easy-to-understand text without medical terms and they are supplemented by showing the most common errors while performing the stretch and how to avoid them.

Each exercise is illustrated with drawings which clearly depict the origin and insertion of the muscle . There are also one or more drawings of the stretch itself, and an anatomical picture of the muscles involved in the stretch.
Read sample
(Download)
---